When:
February 18, 2018 @ 11:00 – 12:15
2018-02-18T11:00:00+00:00
2018-02-18T12:15:00+00:00
Where:
East Riding Theatre
10 Lord Roberts Rd
Beverley HU17 0DJ
UK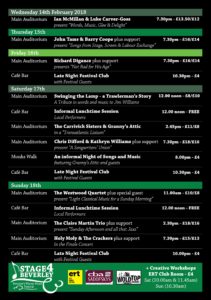 The Albemarle Clarinet Quintet will perform at the Stage 4 Beverley music festival on Sunday 18th February .
The Quintet will join the Westwood String Quartet in a programme of light classical music starting at 11.00 am. The Quintet will perform the first movement of Mozart's Clarinet Quintet in A major (K 581) and one of Alexandre Krein's Esquisses Hebraïques (Hebrew Sketches) as well as joining with the Quartet in the first movement of Mozart's Eine Kleine Nachtmusik and Leroy Anderson's Plink, Plank, Plunk.